With 320 days of sunshine a year, living on the Costa Blanca certainly feels like paradise. That explains why many people like to style their homes, terraces and gardens to reflect the warmth and beauty that surrounds us. That means light or warm colours – pure white, cool beige, sunshine yellow and Valencia orange work well – in natural materials like wood, rattan, glass or bamboo.
A style that works particularly well in our homes is inspired by the tranquil beauty of Bali. Blending the design of this tropical island with the Mediterranean lifestyle works a treat, particularly in areas where we relax the most – the bathroom and outdoors. Here are a few ideas of how to bring Bali into your Costa Blanca home.
In your bathroom, natural stone looks wonderful when creating the Bali look. Stones such as marble and granite in light tones are timeless, relaxing and look beautiful. You can use natural stones on your bathtub, floor, sink and sink countertops for a consolidated look. Add some ferns or other leafy green plants to complete the Bali effect. 
Take a look at our fine selection of bathroom fixtures from leading manufacturers to see how we can design a Bali-style bathroom that suits your needs.
If you don't fancy stone floors, wood works well. If your bathroom is predominantly white, either dark or cool-toned wood will look splendid.
The Bali look is ideal for outdoor spaces where you want to chill out. Like in your bathroom, green plants work a treat. Ferns and palms will look amazing and you could also add a couple of aloe vera plants or even herbs for different plant textures and shades of green.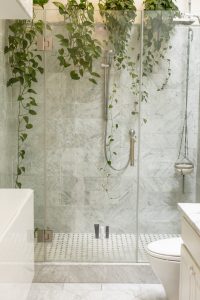 Water features add to the ambiance. You could have a small pool or a water feature made of stone, which will look stunning and also add the relaxing sound of water to complement the look of your Bali-style garden.
Use natural materials for your garden furniture. You could take a trip to Gata de Gorgos to look at the selection of locally-made rattan furniture.
If you're thinking about an outdoor kitchen, again, think about using light colours in natural stone so your work surfaces are both durable and aesthetically pleasing. We will be happy to talk to you about designing a Bali-style outdoor kitchen. Read here to see what our professional team can do to ensure you get a quality kitchen of your choice.
We hope we've given you some ideas on how to create a corner of Bali in your home on the Costa Blanca. Feel free to get in touch to talk to us about designing your bathroom or outside space.