Do you want to be able to throw open the doors to your terrace or garden to make the most of the Mediterranean sunshine? To carry drinks and food outside without having to keep opening doors and risk dropping everything? Are you looking at ways of making your home on the Costa Blanca seem bigger? 
Maybe you want to leave doors open so children and pets can nip in and out of the house without having to ask you to open the door.
With the trend for indoor-outdoor living spaces and the need to save space, it's no wonder that pocket doors have been making a quiet comeback in the past few years.
What are pocket doors?
Pocket doors are custom space-saving features that run on a floor-mounted track or at the top of the doorframe to slide open and shut. When the door is fully open, it slides into a 'pocket' in the wall. 
They can be fitted as single doors or pairs and in many styles and prices. They come in a range of materials from traditional wood, wood veneer or panelled wood barn doors to glass pocket doors and high-end designs.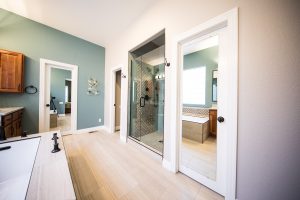 What are the advantages of pocket doors?
Pocket doors are the perfect solution for those warm summer days when you want to throw open all the doors and windows. 
With a pocket door or sliding front door or naya doors, you can seamlessly connect your indoor and outdoor space beautifully. Open the sliding door and you can move effortlessly from your living room to your terrace or garden. 
We're finding these are the perfect solution for clients who are upgrading their homes, particularly if their naya is not enclosed and they want to use it during the colder months. They can fit pocket doors to effectively create another inside living space and then slide open the doors for the long summer months.
This is also the reason why external pocket doors are widely fitted. They create a seamless passage between the front of your property and outside space so you can move freely between the two.
These sliding doors are ideal for any room or wardrobe if you're short on space – they just fit snugly against the wall. They are also widely used if you have a small kitchen, bathroom or en-suite, for example, and don't want a door taking up too much of the precious space you have.
There's no worry about a gust of wind slamming the door shut as with a traditional door and they save on space – the open door isn't taking up any room as it slides next to the wall.
Talk to us about pocket front doors, pocket doors for nayas and internal doors and we will find the best solution for you.