Whilst the days are still very warm in the latter parts of September, October sees temperatures falling and for many that means time to cover up the pool for another year and wait till May.

However, investing in a decent retractable pool cover, you can easily extend the swimming season well into October, November, and even into December.​ ​
At Kevin Jones, we don't just build fabulous pools, we also install what we believe are the very best in retractable pool covers that don't look unsightly and have additional benefits. In fact with these benefits, you'll want to use the pool cover all year round. ​
But let's start with what a Kevin Jones pool cover can look like. The cover is made of interlocking strips of extruded polycarbonate which can be rolled and unrolled. The strips are strong and relatively stiff, in many ways like a typical persiana. The shape can be fabricated to almost all pool shape including kidney shapes. The entire cover is attached to a roller which via a single click of a remote unfurls and covers the pool. you might thing these would be unsightly but in fact the whole mechanism can be submerged in the pool so it doesn't stick out like a proverbial sore thumb! There are several options for the positioning of the cover and of course we can build or modify your pool to accommodate the cover in the most convenient place. The image below shows some of the options….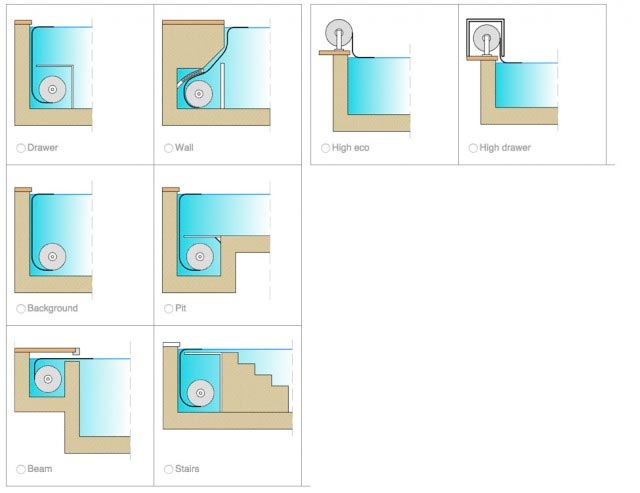 As mentioned, there are a number of benefits but lets start with safety. Sadly, the number of children who accidentally drown in pools in Spain is on the increase. Our pool covers are strong enough that you can actually walk on them. Of course we don't recommend this, but if a child accidentally falls into the pool, they're safe!
Other benefits include…
​30,000 litres per year less water evaporation. ​
7º ncrease water temperature off season. ​
65% reduction in pool heating bills. ​
20% reduction in chemical usage. ​
30% reduction in cleaning costs.
​No matter if you have an existing pool, or are planning on building your dream infinity pool (see article here), Kevin Jones construction will take the time to survey your location, design a stunning pool and expertly build your pool. Located in the northern Costa blanca, Kevin Jones Construction have literally years of experience and will be happy to help you turn your imagination into reality.