Your bathroom is a space for pampering, putting on make-up, having an at-home spa day, or styling your hair. So why not make the experience even more glamorous by adding Swarovski crystals to your bathroom decor?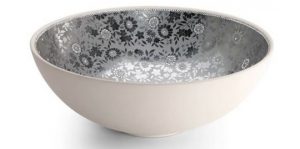 The exquisite Swarovski crystals are a wonderful way to add timeless elegance to your bathroom without spending a fortune. Simply change a couple of accessories elevated by Swarovski crystals. You can get bathroom accessories from toilet roll holders to towel rails embedded with stunning crystals. 
We can't recommend these Bathco bath porcelain washbasins with Swarovski crystal designs enough. There's a lovely range of basins and so you can choose one which will complement your existing bathroom style or even add a washbasin to add contrast and really stand out in your bathroom.
We suggest you take a look at these designs before you plan your bathroom upgrade or redesign. They are sure to give you plenty of ideas on how to create the perfect bathroom for you and your individual needs. You may find that adding a few matching accessories or a couple of features, such as the bathroom sink, is all you need to give your bathroom a completely new, fresh look.  
Instantly create a luxury bathroom
It's amazing how luxurious your bathroom looks and feels by adding a few sparkling crystals to the room, especially when the light streams in and bounces off them.
If your bathroom is predominantly white or a light colour, for example, then the Baroque Silver washbasin with Swarovski crystals can be used as a standout feature. This porcelain washbasin designed with flowers is both very romantic and elegant. It is also timeless and so you can reuse the washbasin whenever you redesign your bathroom.
Other designs are more minimalist if you want to add a hint of glamour without going overboard on the glitz. For instance, the white forest washbasin is suitable for both modern or classic bathrooms. The design in the porcelain bowl is exquisite while being discrete.
Again, all the Bathco basins can be kept for your new bathroom every time you decorate. 
If you are planning to redecorate your bathroom or want ideas on adding accessories, such as these patterned sinks with Swarovski crystals, come and talk to us about your specific requirements.